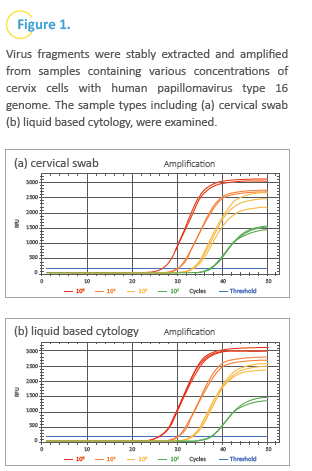 TANBead HPV DNA kit (61H series)
"This TANBead Nucleic Acid Extraction Kit (61H series products with HPV DNA Auto Tube/ Plate) utilizes the nano-magnetic bead nucleic acid extraction system, together with the exclusive patented whirl stir-mixing automated nucleic acid extraction benchtop instrument, which can automatically extract HPV DNA in the specimens. The high-quality HPV DNA product is applicable to subsequent HPV typing and diagnosis, which can be used for medical diagnosis or scientific research.
Since 2004, TANBead has been committed to the design, research and development of innovative medical devices, providing a series of automated nucleic acid extraction benchtop instruments and reagent kit products for In Vitro Diagnosis (IVD). TANBead strictly abides by the quality system specifications, and provides customers with highly stable and efficient nucleic acid extraction solutions that can meet their highest requirements for the quality of extracted nucleic acid products.